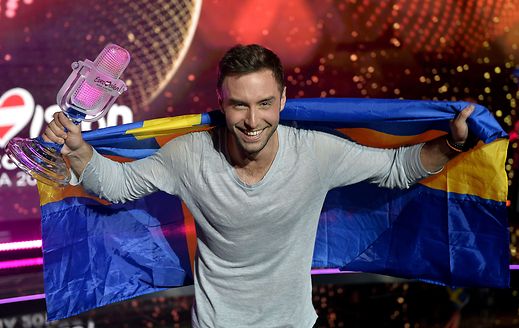 Swedish dreamboat and current number 1 in 20+ countries artist Måns Zelmerlöw won the 60th Eurovision Song Contest last night, bringing the contest back to Sweden yet again. This is Sweden's 4th top 3 placing and 2nd win in 5 years. When will Ireland?
This was my obvious winner from day 1, so I both rooted for this victory and saw it coming. The voting itself was pretty split, with "Heroes" dramatically gaining the lead toward the end of the voting. This caused some Eurovision fans to get pretty pissed off – poor them! – but I will explain to you why he's better than your fave anyhow.
1. His performance had an inspirational meaning behind it.
Måns' has gone on record telling the story behind his entry, and it's more than your typical "it's about hope" type back story 99% of the Eurovision artists babble on about during press conferences. The story has to do with bullying, mob mentality, being a good Samaritan, and helping those in need.
2. A smear campaign couldn't keep him down.
After anti-gay rumors were circulated by some angry [wiwi]bloggs after their fave didn't win Melodifestivalen, he quickly put those to rest. Then there were plagiarism accusations, which he also shot down. Then before the contest, a big scandal featuring a conspiracy by an EBU member to sabotage his name surfaced, complete with a non-denial caught on video. All of this nonsense just shows how threatening his, and Sweden's, Eurovision muscles are. No matter what you tossed at him, he easily let it roll off his back. An inspiration to us all!
3. I mean, that staging.
When have we seeing staging this good at Eurovision? Not since Loreen, to be honest. Next year everyone will be pulling out the budget LED screens and animation gimmickry.
4. It's not a copy & paste of previous entries.
Looking at 2nd and 3rd place, you have two examples of how taking the safe route will definitely get you to a respectable placing, but it's not how you win the contest. 2nd place finisher "A Million Voices" from Russia's Polina Gagarina was a damn good ballad with excellent staging. She was gorgeous and on key and the song's message, though preachy, was nice enough. The issue with it though was he was this last year. Sweden literally sent this same song and same singer 1 year ago with "Undo." Being a blond chick with a bob who sings an 80's style power ballad is great, but Eurovision tends to pick songs that stand out because they aren't exactly what we've seen 100 times before. A spaghetti western disco track about being one with nature and using kindness to win over opposition is not a contest staple. Italy's "Grande Amore" is the biggest offender of this, as it sounds so run-of-the-mill in terms of how popera has sounded for the past decade. It could have been on any popera artists album.
5. Still mad? Hire a therapist.
If you can't come to terms with King MZ slaying all of Europe with this timeless tune, I suggest professional help. Hire someone who can help you come to terms with reality. I have faith even you can recover. But until then, listen to the king on repeat and pray he is able to get around to cleansing your soul. Any questions?